OCP Interventions
Our intervention embraces that parents are children's best teacher, and focuses heavily on caregiver involvement in services.
We offer weekly support to caregivers focused on managing challenging behaviors in the home or across settings.
Please contact 541-743-4340 and leave a message if you are interested in enrolling your child in Outpatient counseling.  An intake coordinator will call you back.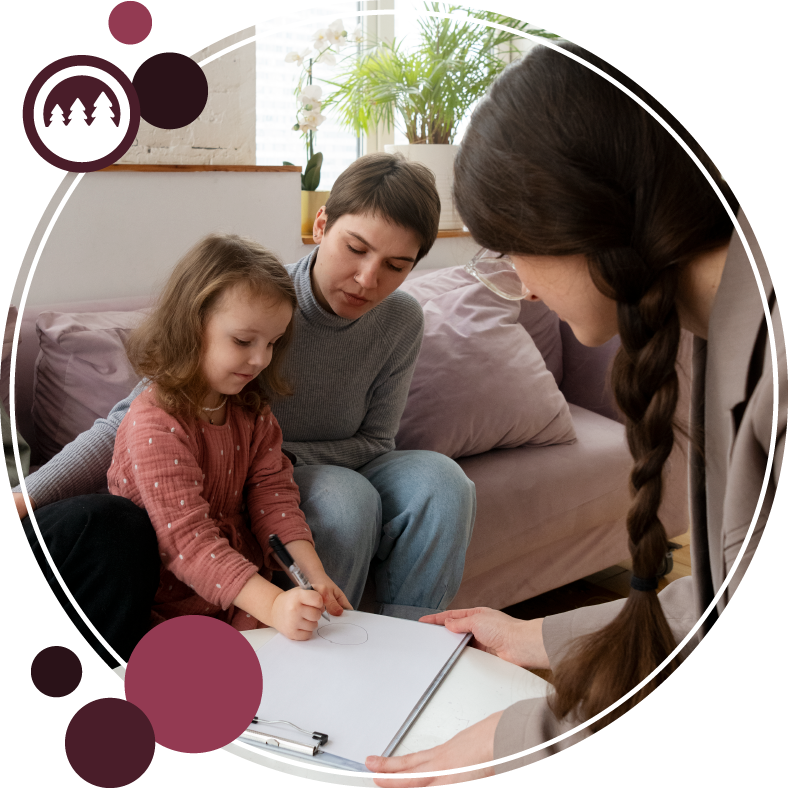 Connections Program
Connections is an outpatient therapy program for families of youth ages 4-17 learning to manage a range of common difficulties such as arguing, defiance, anxiety or depression, adjusting to new circumstances, managing trauma, and more. Our program and interventions are informed by 40+ years of social learning research on how successful families thrive. We strongly believe that parents are the most important influences on their child, and all of our services include regular parent participation. At this time, Connections therapists accept Oregon Health Plan only.
What makes us different?
Evidence based: All our services are informed by evidence-based practices, which means extensive research have shown them to be effective. We offer services informed by Parent Management Training-Oregon (PMTO), Trauma Focused Cognitive Behavioral Therapy (TF-CBT), Treatment Foster Care Oregon™ (TFCO™), Family Check Up (FCU) and more.
Real world practice: Individual therapists usually meet with children in the community to allow for real-world practice of new skills. We find that children are more likely to use their skills at home when they've had a change to try them out with support in a natural environment.
Parent involvement: We require that parents are active participants in their child's treatment because we know that is the best way for children to sustain positive change. Our therapists will meet with you regularly to offer strategies that support your child's ability to use the skills they are practicing in their individual sessions at home.
Practical tools that build on one another: Families can expect to learn concrete strategies to improve child behavior that they can use for a lifetime. These strategies are research based, but also individualized to meet your family's specific needs.
How do I get started?
If you are interested in learning more about our services or would like to schedule an intake, please call 541-743-4340. One of our referral coordinators can answer your questions and schedule a first appointment.
After an initial meeting with one of our intake specialists, we will work with you to create a plan for services that match your family's needs. For youth and families who are suffering from symptoms related to trauma, we have therapists with advanced training in Trauma-Focused Cognitive Behavioral Therapy.
Services Provided:
Your therapist will help connect you with the services that best meet your family's needs.
Family Therapy: Caregivers meet with a family therapist an average of once per week. The therapist and caregiver collaborate to create goals and interventions designed to facilitate positive behavior change from their child. This can include experimenting with different behavior management strategies in the home, school, or community. Your child will attend some of these sessions with you and some will be parent-focused.
Individual Therapy: Children receive community-based or office based therapy to learn and practice new skills to help alleviate the presenting problem. Individual therapists use various behavioral strategies such as role-play, encouragement, redirection, behavioral activation, as well as games and art for direct skill development.
Peer Support: Receive support from individuals with a background or understanding of what you're going through. OCP offers both youth and family peer support which compliment therapy services.
Skills Training: To master a skill, we all need practice! Skills trainers are positive role models who practice positive behavior skills your child needs help with, such as following directions quickly, handling frustration, using relaxation skills, initiating and maintaining friendships, appropriate conversation skills, and more. Skills trainers also support youth in exploring positive and healthy activities that increase their self-esteem and confidence. Kids usually love spending time with their skills trainers!
Case Management: With your permission, our therapists may be able to offer some help to connect your family with resources or to coordinate with others who are important to your child's success, such as schools, doctors, or others.
Psychiatry: Behavioral intervention alone can result in marked improvement in your child's symptoms, but some youth benefit from both behavioral intervention and targeted use of medication. Many families are able to work with their pediatrician or primary care physician to manage medication needs, if any. If your child qualifies, our in-house psychiatrist may provide an assessment and/or medication management.
Crisis Support: Because challenges arise outside of business hours, too, Connections provides on-call after hours support to assist caregivers in problem solving in-the-moment behavioral issues.