Want to make a real difference for children and families?
At Oregon Community Programs, that's our mission and why we've been a leading provider of outpatient behavioral health and specialized foster care in Lane County and beyond.
Do you enjoy working in a fun environment that encourages a team approach and personal growth? Is working for an agency that offers an unmatched benefit package important to you? If you answered yes to these questions, then OCP may be the right place for you!
We are a team of 47 skilled therapists, clinical interns, mentors, skills trainers, and administrative staff who are also hikers, dog lovers, kayakers, DIY fanatics, travelers, bikers, photographers, and musicians. As both colleagues and friends, we enjoy working together to bring enthusiasm and a team-oriented focus to our programs and projects.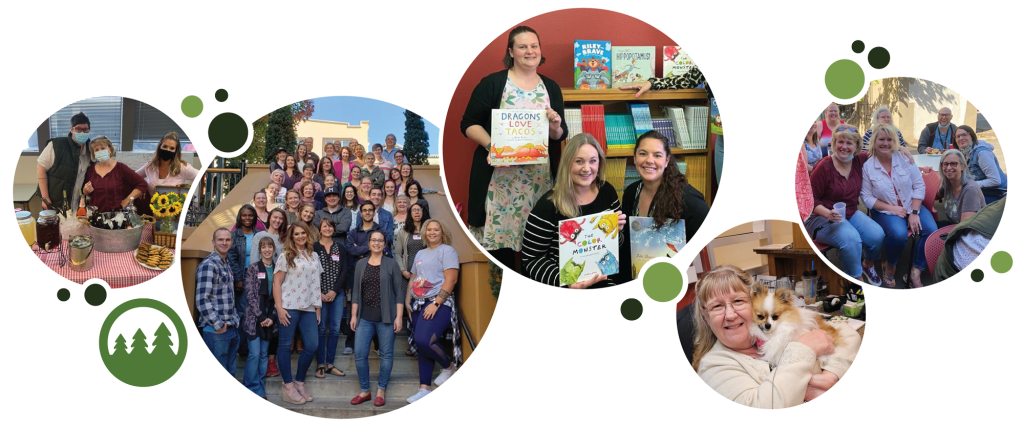 At OCP, we:
Have a growth mindset. OCP's services are lodged in the strongest research on improving family connection and reducing conflict and stress. We are open to learning new strategies and excited to continue growing both personally and professionally.
Like working on a team. We connect with people in a friendly and outgoing way and respond quickly and supportively to changing situations or conditions. We collaborate as a team and enjoy bouncing ideas off of each other.
Maintain a Flexible and relaxed work environment. Of course, we are focused on our business, but productivity and flexibility go hand in hand. And, did we mention we are dog-friendly?
Desire connection in the workplace. We acknowledge that one marker of a healthy organization is strong connections among staff. We strive to maintain an environment where colleagues take time to learn about one another and celebrate diverse ideas and interests.
Follow through to completion. With many competing demands at any given time, we're able to prioritize our attention effectively, and return to suspended tasks and see them through to completion. We appreciate an environment where departments work closely together with a shared aim of delivering the best service possible.
Identify as self-starters. We set ourselves apart by our tendency to ask questions, lend an opinion, or brainstorm possible solutions. We derive satisfaction from a job well done and model initiative to those around us.
Jump at the opportunity to make a difference. Our agency is ready to grow and you can help build it into something special for the future of children and families of Lane County and beyond.
Successful candidates will receive:
Extensive training and supervision in validated behavioral health treatment for youth and family, when applicable
Excellent Administrative and IT support
Loan Repayment Program (OBHLRP)

OCP is approved for the Behavioral Health Provider program and the Oregon Healthcare Provider Loan Repayment program. In exchange for service at our qualifying site, applicants who are approved receive funds to repay qualifying graduate-level school loan debt.

Generous benefits package

Comprehensive medical/dental insurance
Health Reimbursement Arrangement (available to staff on OCP's medical insurance plan)
Employer-Paid life insurance
Up to 45 paid days off annually (12 paid holidays + 14 hours/month vacation time, 8 hours/month sick leave for full-time employees.)
Employee Assistance Plan (Access to FREE appointments with a mental health counselor, reduced gym membership fees, …+ other primary benefits)
Flexible Spending plan
Employer retirement contributions. 4% of gross wages vested after 3 years.
Licensure supervision provided at no cost for clinicians pursuing LPC, LCSW, or LMFT credentials.
OCP offers flexible work hours, a friendly team atmosphere including staff social events and a dog-friendly office environment.
All clinical services are effective and supported by the most recent science in behavioral health.
OCP IS AN EQUAL OPPORTUNITY, AFFIRMATIVE ACTION EMPLOYER
OCP is a healthcare facility and abides by Oregon Health Authority's rules around COVID vaccinations in all healthcare workplaces. Staff is not required to be fully vaccinated however there are additional steps and precautions that unvaccinated staff are required take.