Supporting Foster and Kinship Parents
During this time of isolation, KEEP is needed more than ever! KEEP is now one of only a handful of services currently in operation that support foster families. During this time of uncertainty, foster parents will welcome the opportunity to have a network to connect with other foster parents.
Due to the Coronavirus Outbreak, for your safety and ours, all in-person group meetings have been temporarily suspended. We have fully transitioned all current and future KEEP groups through ZOOM, an online platform until the Stay-At-Home executive order is removed. All you need is a computer, tablet, or smartphone, and internet access.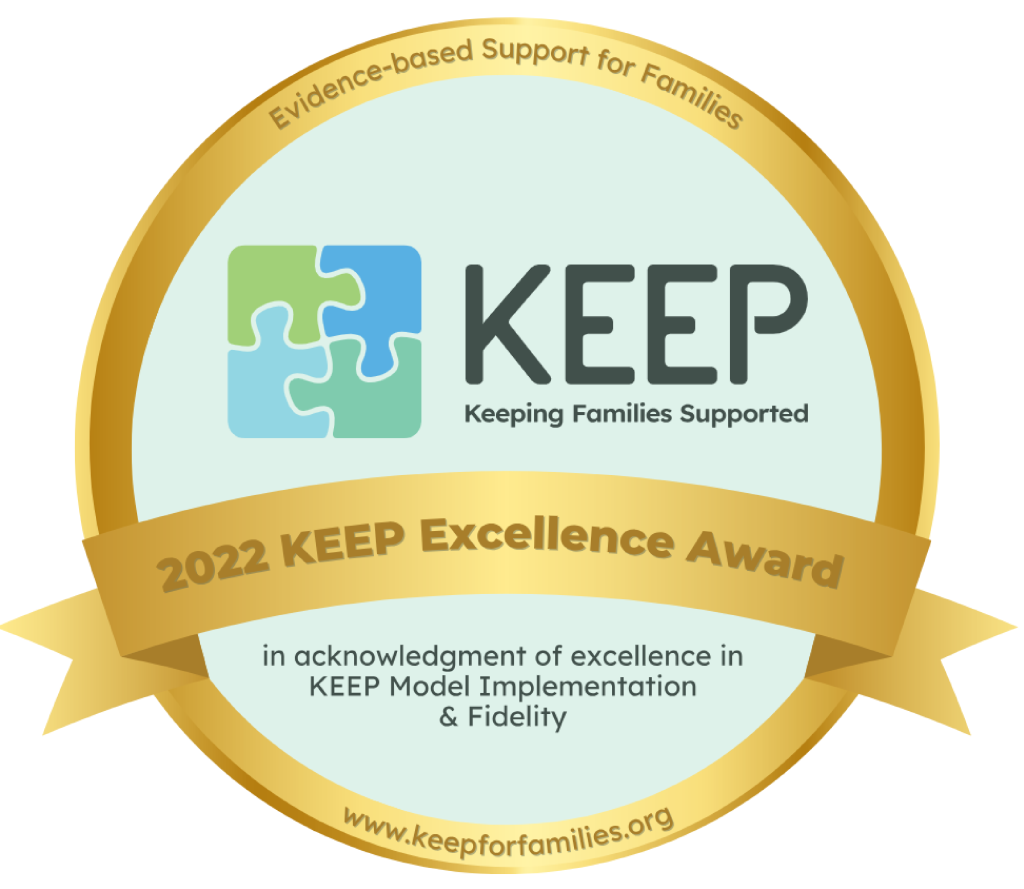 Which Group is right for you?
We now offer three groups, with age-specific content for youth or teens.
KEEP Tag: For foster or kinship parents with a toddler 2-4 years old in the home
KEEP Standard: For foster or kinship parents with a child age 4-12 in the home
KEEP Safe: For foster or kinship parents with youth age 13-18 in the home
What is KEEP?
KEEP promotes the idea that foster and kinship parents can serve as key agents of change for children by strengthening their confidence and skills so they can change their child's behaviors, teaching effective parent management strategies, and providing them with support.
KEEP is an award-winning support and skill enhancement program for foster parents and relative caregivers that is revolutionizing the foster parent experience here in Oregon and in locations around the world. KEEP is an evidence-based support and skill enhancement program for foster and kinship parents of children (KEEP Standard) and teens (KEEP Safe). KEEP supports foster/kin families by promoting child well-being, reducing foster parent stress, and preventing placement breakdowns.
What is a KEEP group?
Both KEEP Standard and KEEP Safe are designed to be flexible and fun. Unlike a classroom lecture format, KEEP groups are interactive and participatory. The groups synthesize the real and current experiences of foster and kinship parents with lessons learned from research about the most effective parenting methods.
16 weekly, 90-minute sessions
Get paid! Receive $25 each week for attending. That's $400 total! (mailed weekly)
Receive up to 24-training hours
Learn how to manage behaviors, avoid power struggles, reduce foster parent stress, and build on youth strengths
Connect with other foster parents
Enhance and learn new parenting skills
Get real results, from the comfort of your home

Evidence-based parenting curriculum tailored to each group's specific needs

KEEP is trauma-informed
KEEP homes have:
Numerous studies have shown that many of today's foster children have complex and serious behavioral and mental health problems that put them at risk for negative long-term outcomes. The enormous potential of these young people and the tough challenges faced by foster and kinship parents inspired the development of the KEEP model.
Kids with lower rates of emotional and behavioral problems
Kids with a faster path to permanency
Lower rates of placement disruptions
Higher rates of positive parenting
Lower rates of harsh discipline
Spillover of positive effects to other children in the home
Research shows that KEEP works for families!
Learn more:
What others are saying about KEEP®
"The KEEP model is easy to get behind and understand. I have been able to implement what I have learned so far and my kids feel the success.."
"I learned a large amount of tools to help with our foster children. The KEEP program is extremely valuable. I wish this had come earlier in my foster career."
"Our group seems so willing to share experiences and has a total of 62 years of experience. This group is so personable and fun."
"Super helpful, actual tools. Really helped us balance our lives."
"I would highly recommend the KEEP program to other foster parents!"