Parenting is hard, PTC offers support.
Parenting through Change (PTC) groups are hands-on and engaging. Each week Group Leaders present skills that build hope, confidence and effective parenting practices.
PTC is for biological or adoptive parents of youth who would benefit from support managing their children's behaviors and strengthening their parenting practices. If you are a foster parent and would like support, click here to learn about our KEEP Groups.
Upcoming groups:
Wednesdays – 10:30am-12pm – Starting 9/27/23 (virtual)
Tuesdays – 10:30am-12pm – Starting 10/3/23 (in person)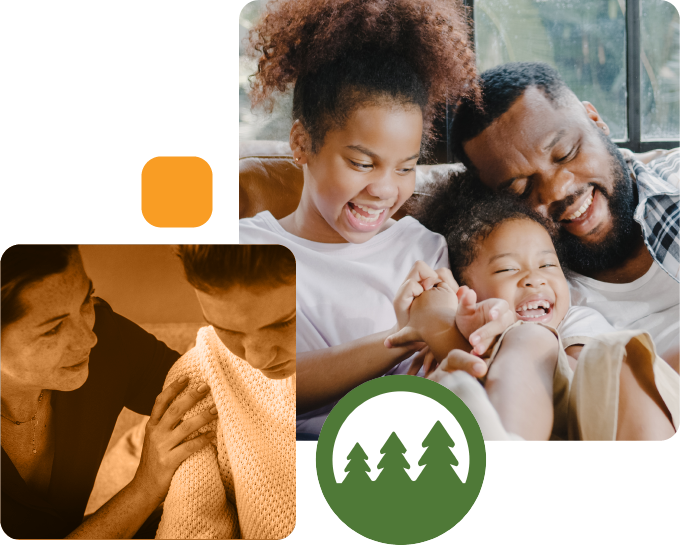 Is PTC for me?
Does your child test authority, argue, or have difficulty minding? Do you struggle with managing your child's tantrums? Are you concerned that your child might be struggling with depression or anxiety? Is it sometimes difficult to manage your own emotions when parenting your child?
If so, Parenting Through ChangeTM (PTC) might be a good fit for you.
Why Join?
Receive support from fellow parents, learn new skills in a low-stress environment, and earn incentives for attending!
Connect with other parents and share ideas that promote child behavior change.
10 weekly, 90-minute group sessions
1 on 1 support between sessions from a trained PTC group leader.
Free weekly handouts, resources + goodie bag filled with tools for using PTC in your home!
Biological, adoptive, or guardians with children ages pre-k to teen in the home.
Groups available in English and Spanish.
Entry into raffles for attendance and practice every week!
Open to ALL families in Lane County. Insurance Not Required.
Varied days and times offered each week.
PTC is tailored for:
Mental health & behavior problems in youth ages pre-k to teen, and supports families facing complex challenges:
Defiance
Aggression
Hyperactivity
Delinquency
Problems with Peers
Depression & Anxiety
Adjustment Difficulties
School Behaviors
Each week Group Leaders present different skills:
SESSION 1 – Working Through Change
The change process begins by strengthening hope, identifying strengths, and building on a better tomorrow.
SESSION 2 – Encouraging Cooperation
Leaders will demonstrate how to increase your children's cooperation and strengthen the directions you give your kids.

SESSION 3 – Teaching Positive Behavior
You will learn how to shape more positive behavior in your kids and reinforce good behavior.

SESSION 4 – Observing Emotions
We will explore the power of emotions and how they relate to family life, as well as how to recognize and manage our own emotions.

SESSION 5 – Active Communication
Relationships are nourished with good communication. We will demonstrate the use of active listening to strengthen communication within families.
SESSION 6 – Setting Limits
We will help you find an effective balance of encouragement and discipline to improve children's behavior and to keep them safe.

SESSION 7 – Follow Through
We will review and practice effective limit-setting before you introduce it to your children.

SESSION 8 – Problem Solving
All families have problems. We will introduce a tool to help families plan activities, manage conflicts, and negotiate agreements.

SESSION 9 – Encouraging Routines
You will learn how to break goals into small, achievable steps. Learning through encouragement sets children up for success.

SESSION 10 – Putting It All Together
Learn how to balance work, life and play by weaving together PTC skills learned in group.
---
What people are saying:
"It's very helpful to have support both from the leaders and from parents who have similar struggles in parenting. It very much is a safe place to re-examine parenting as a whole."
"It has been really great to learn so many tips and skills to work with my kids. I have learned so much and it has made a big difference for our family.
"I like how the group reaches out and does check-ins weekly. It's really nice to have someone understand and let me know that it is okay to these feelings."
PUBLISHED, PEER-REVIEWED RESEARCH
Forgatch, M. S., & DeGarmo, D. S. (1999). Parenting through change: An effective prevention program for single mothers. Journal of Consulting and Clinical Psychology, 67, 711-724. https://doi.org/10.1037/0022-006X.67.5.711

Martinez, C. R., Jr., & Forgatch, M. S. (2001). Preventing problems with boys' noncompliance: Effects of a parent training intervention for divorcing mothers. Journal of Consulting and Clinical Psychology, 69, 416-428. https://doi.org/10.1037/0022-006X.69.3.416

DeGarmo, D. S., Patterson, G. R., & Forgatch, M. S. (2004). How do outcomes in a specified parent training intervention maintain or wane overtime? Prevention Science, 5(2), 73–89. https://doi.org/10.1023/B:PREV.0000023078.3019
Patterson, G. R., DeGarmo, D., & Forgatch, M. S. (2004). Systematic changes in families following prevention trials. Journal of Abnormal Child Psychology, 32(6), 621–633. https://doi.org/10.1023/B:JACP.0000047211.11826.54

Forgatch, M. S., Patterson, G. R., DeGarmo, D. S., & Beldavs, Z. G. (2009). Testing the Oregon delinquency model with 9-year follow-up of the Oregon Divorce Study. Development and Psychopathology, 21, 637–660. https://doi.org/10.1017/S0954579409000340

Patterson, G. R., Forgatch, M. S., & DeGarmo, D. S. (2010). Cascading effects following intervention. Development and Psychopathology, 22, 949-970. https://doi.org/10.1017/S0954579410000568
Bjørknes, R., Kjøbli, J., Manger, T., & Jakobsen, R. (2012). Parent training among ethnic minorities: Parenting practices as mediators of change in child conduct problems. Family Relations: An Interdisciplinary Journal of Applied Family Studies, 61, 101-114. https://doi.org/10.1111/j.1741-3729.2011.00683.x

Kjøbli, J., Hukkelberg, S., & Ogden, T. (2013). A randomized trial of group parent training: Reducing child conduct problems in real-world settings. Behaviour Research and Therapy, 51, 113–121. https://doi.org/10.1016/j.brat.2012.11.006